Advertising Flags, Street Flag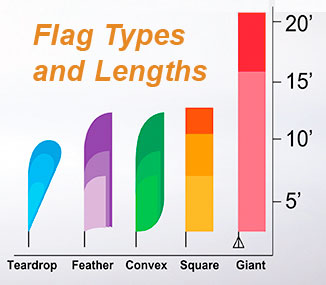 Easily installed, Strong pole and ground spike.
Carrying case included.
Flags are a unique and effective way to draw attention to your business. If your county/city municipality make it difficult for exterior signs due to permitting and restrictions, then and Advertising Flag is the product for you.  Put them by a busy street and get the most bang for your buck. The flags are designed to be 100% effective in all wind conditions. Your message will achieve its target audience on the stillest day and even in an indoor environment. Also, it will not collapse or wrap around the flag pole like an ordinary flag.
Features:
Available with single sided or double sided artwork Replacement fabric skins offer the flexibility to change your message / image with ease, and for a minimal cost. Ideal for both indoor and outdoor events, trade shows, retail stores, general and off-site promotions and auto dealers, as well as corporate and sporting events.
Flag Prices
Teardrop Flag
Small   - $109
Large - $139
Feather Flag
Small   - $109
Large - $139
Convex Flag
Small   - $109
Large - $139
Square Flag
Small   - $109
Large - $139
* Prices include: Flag,Pole, Groundstake and Bag