Digital Sign Rental , LED Sign Trailer , Mobile LED Message Board
Melbourne LED Sign Rental , Orlando LED Sign Rental, Daytona LED Sign Rental, Vero LED Sign Rental
20,000+ views a day on busy streets! No better ROI dollar for dollar...
Our mobile billboard for rent is a great way to get attention, or advertise your next special event or business promo in a dramatic fashion. Full color, video capability gives you flexibility and power to produce colorful and exciting messages that can be viewed in the most  brutal weather conditions and at greater distances up to 100's of feet. Our waterproof 10mm LED 4x8 trailer sign is portable and convenient to park in any location and is tall enough to be seen over cars and bush hedges. It has a crisp and sharp image. Let us integrate your photos or video into your messages to give that personal creative touch.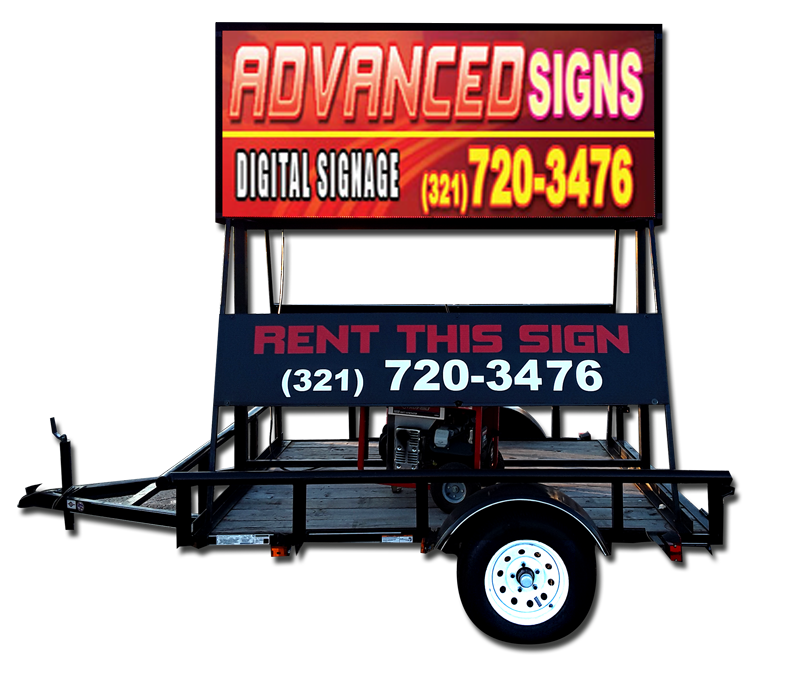 Includes:
- 4x8 , Double sided digital message board
- Premium animations for 1 business
- Delivery and pickup from the site
- Powerful Message Scheduling
Features: Video capability, All-weather Operation, crisp high-res screen,  small footprint, standard 120v connection, generator power option, powerful message scheduling , full color, ultra bright
Usage: Indoor or Outdoor; Waterproof and ultra bright for easy daytime viewing.
No Hassle Rental.
We drop off, and Pick Up!
Covering All Central Florida
Mobile Sign Rental Prices
1 Week = $380
2 Weeks = $600
1 Month = $1000